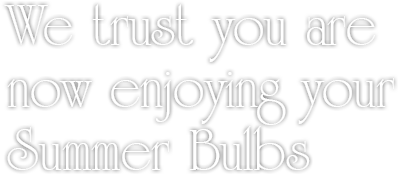 Why not come and say hello...
30 July
Chelsworth Open Gardens, Chelsworth, Suffolk. IP7 7HX from 11.00am
17 August
AGS Mid-Anglia Bulb Sale, Fullers Mill Garden, West Stow Suffolk. IP28 6HD from 14.00pm
Welcome - our Spring Planting season is now finished and Autumn Planting will go live in early July.
We trust you are now enjoying the lilies, and shortly the dahlias and other summer flowering bulbs.
Our Spring Planting season is now closed, and we are preparing to open the new Autumn Planting season to orders in mid-July (for delivery from early September).
Please register to receive a notification here In the new season, we will again have in excess of 600 varieties of bulbs available, a mix of classic favourites and some things that are maybe a little different, and for late October delivery, our range of undivided 5/+ eye bare root Peonies.
If you are putting together a wishlist of Tulips, Alliums etc, please look at the Autumn Planting tabs to get an idea of our forthcoming selection.
And, if you have already made a selection that you would like us to quote against please drop us an email. (riversidebulbs@btinternet.com)....as we have access to hundreds of varieties in addition to our stock listings.
A print (pdf) copy of our Autumn 2019 mail order sheet can be downloaded here.
(For members of the Hardy Plant Society, a mail order sheet will be sent out with the Summer Newsletter)
(For reader of Gardens Illustrated, a mail order sheet will be sent out in late August (with the September Issue)
With best wishes for a relaxing summer
Matt,Sally & Imogen Long