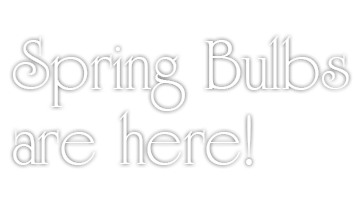 Why not join us in 2018...
May 6 Su
Norfolk Plant Heritage Plant Fair 10-13, Hethersett Village Hall, Norfolk NR
May 6 Su
Woottens Spring Fair 10-16, Wenhaston, Suffolk IP19 9HF
May 19 Sa
Hadleigh Show 10-16, Holbecks Park, Hadleigh Suffolk IP7 5EB
May 27 Su
Suffolk Plant Heritage Plant Fair 10-16, Helmingham Hall, Suffolk IP14 6EF
May 30/31
Suffolk Show, Trinity Park, Ipswich, Suffolk IP3 8UH
June 17 Su
Bury St Edmunds Hidden Gardens 10-16. Whiting Street IP33 1NP
Welcome - to Spring Planting Season 2018
We trust you will agree that we have an interesting and varied range of bulbs for this season – over 450 at the last count including 80 new varieties, 120 Dahlias and 48 Lilies
For a print (pdf) copy of our Spring 2018 mail order sheet Please click here
Specialising in bulbs for keen gardeners and those with a larger garden who want something different as well as reliable, many of our choices have the RHS Award of Garden Merit.
Our pricing and quantities are particularly attractive, and the high level of quality we provide is on a par with the specialist nursery. Our stock is sourced from people we know, and whose quality is assured and our policy is to offer the biggest size bulbs for the best flower under garden conditions.
While we are most active in East Anglia, our exceptional quality, service and good value is available to anyone who wants a garden full of interesting form and colour.
This site has information and pictures to help your choice, but please feel free to contact us to discuss your needs. (If we are not immediately available, please leave a message or send an email, and we will call you).
If you are looking for something specific, use keywords in the search facility to take you directly to what you are looking for
With best wishes for rewarding gardening
Matt, Sally & Imogen Long