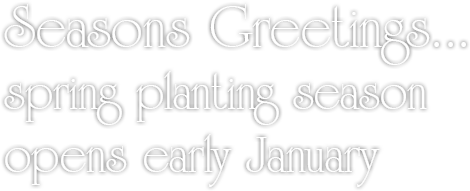 A list of 2019 plant fairs to follow shortly
We would like to wish all our customers our very best wishes for the festive season.
Our website is now closed for the Autumn planting season, as we have a month of potting up, before our 2019 Spring planting seasons opens in early January. Please register your email address to receive notification
We expect to have a great selection of Dahlias despite the problems caused by the 2018 spring and summer weather, as well as a full range of other bulbs for summer colour, please look at the Spring Planting tab as an indication of things to come. Please note that the political situation may have an impact..as yet uncertain.
A print (pdf) copy of our Spring 2019 mail order sheet will be available to download here before Christmas.
all the very best
Matt, Sally & Imogen Long